Ice & Snow Melt Systems on Long Island
Snow Melt System Installation in Nassau County, Queens & Beyond
​Are you tired of shoveling snow from your driveway and sidewalk, or tired of the costs of having to pay someone to do it for you every time it snows? A snow melt system may be just the solution you're looking for. Installed beneath your pavement, these heating systems effectively melt away snow and ice so that your driveways and walkways stay clear and safe.
AWS Plumbing, Heating & Cooling can help you design and install a system for your property, whether you have a small coverage area on a residential lot or a much larger commercial project. Located on Long Island, our experts proudly serve all of Nassau County as well as Queens and New York City.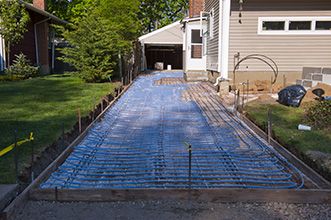 ​We can answer all of these questions and more during your initial consultation:
What does ice and snow melt system cost to install?
Do we install roof ice and snow melt systems?
Are snow and ice melt systems safe?
How long do snow melt systems take to install?
And more
AWS Plumbing, Heating & Cooling installs snow melt systems for commercial and residential properties throughout Long Island. To request an estimate, give us a call today at (516) 217-2196.
Why Use an External Ice Melt & Snow Melt System?
Ice melt and snow melt systems are becoming very popular in both residential homes and businesses. Here are some common situations where ice melt / snow melt can be used.
Eliminate the need for labor intensive shoveling. Homeowners can choose to install the systems in all of their exterior paving, including driveways, sidewalks, steps, and patios, to eliminate the need for constant manual snow removal.
Prevent accidents and save on snow and ice removal costs. Instead of installing a snow melt system in all their exterior paving, homeowners may choose to use them only in unsafe spots where snow falls and accumulates frequently, which can easily cause accidents.
Reduce removal costs and accident liability. Business owners frequently use snow melt systems in outdoor malls, parking lots, car washes, walkways, and loading ramps to reduce labor costs and to protect customer and client safety.
Are Ice & Snow Melt System Expensive?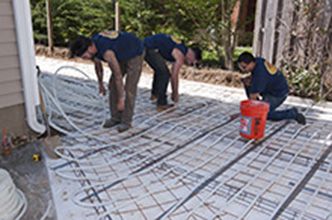 ​A few factors impact the cost of a ice / snow melt system installation job:
Size of job: Bigger jobs take more time and in general cost more money.
Local utility costs and availability: The costs and the availability of electricity and other utilities, such as oil, gas, and solar are different nationwide.
Average total hours of snowfall: The average hours and total accumulated snowfalls vary greatly nationwide. The areas where there are more snows need bigger jobs and higher operating costs.
The speed of snow melting user wants: The sooner, the higher costs.
A Snow Melt System in Action


AWS Plumbing, Heating & Cooling installed the snow melt system above. The use of a FLIR camera (thermal imaging infrared camera) gives us a great chance to see some of our local projects in action during a winter snow storm, allowing us to see the snow melt system at work beyond the naked eye.
Contact us today to request more information on snow melt systems.
Our Customers Love Us
Hear What They Have to Say
- Stuart K.

- Stacey F.

- Jess T.

- Luke B.

- Nancy C.
Why Choose Us?
We're Focused On Your Satisfaction
Family Oriented With Hands-On, Accessible Owner

Serving All of Long Island, NYC & Queens Since 1988

Straightforward Services at Honest, Fair Prices

Highly Skilled, Happy Employees & Project Managers

Fully Vetted, Background-Checked & Drug-Tested Employees