Long Island High Efficiency Boilers
Energy Efficiency Boiler Service, Repair & Installation in Nassau County, Queens & NYC
Your Energy Efficient Boiler System Consultants!
High efficiency boilers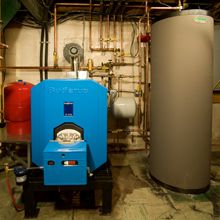 AWS Plumbing, Heating & Cooling wants to convey to its customers that we install high-efficiency heating systems that will save homeowners money and provide them with maximum comfort.
Installing a new high-efficiency boiler with your heating system can save energy and dollars while improving comfort in your home. The Annual Fuel Utilization Efficiency (AFUE) rating indicates what percentage of the energy in the fuel is converted into usable heat. A new high efficiency boiler will have an AFUE rating of 87% or greater while older boilers typically have AFUE ratings from 60%-75%. Energy efficient boilers not only save money but also are better for the environment.
Is a high efficiency boiler right for me?
Many of the boilers that achieve the 90% range in AFUE ratings are condensing boilers. While ultra high efficiency can be achieved with such boilers they are not right for everyone.
Things to Keep in Mind
Although replacing or converting your boiler to a high efficiency boiler might be expensive or a necessary decision it's also a long term investment for your future. It will save you money year after year, especially if your existing boiler is old and not efficient. The high efficiency boilers we install will save you potentially into hundreds of dollars over the course of a year. It's a solid investment to save you money in the long run & will raise your home value while lowering your carbon footprint. Give us a call and ask about high efficiency boilers.

A few factors impact this decision.
The hydronic distribution system in the house - Do you have a low temperature distribution system such as radiant heat, snow melt, pool heating or dedicated domestic water? Condensing boilers love cold water temperatures and these are good candidates. High temperature systems such as baseboard, radiators, convectors and fan powered units will not allow such a boiler to condense fully and may operate at a much lower efficiency level comparable to a more cost effective conventional boiler.
Price of installation - High efficiency boilers are more costly to purchase and install. To maximize monetary payback they should be used in situations where they are most efficient. We offer many types of boilers & we will be able to work with you based on your current setup and desire.
Energy savings - Energy savings will be realized when the boiler is installed properly and used in the appropriate situations.
Several Types of Energy Efficient Boilers We Service & Install
Gas Boilers
Steam Boilers
Hot Water Boilers
Natural Gas Boilers
Propane Boilers
Condensing Boiler
Residential Boilers
Commercial Boilers
Types of Systems We Convert, Install & Maintain
Forced-air Systems
Hot-water Systems
Steam Systems
Natural Gas Systems (National Grid VPI Installer)
Oil Burner Systems
Propane Systems
Boiler Brands We Service & Install
Bosch
Weil McLain
Slantfin
Navien
Peerless
Laars
IBC
Rinnai
Crown
Williamson
New Yorker
Call (516) 217-2196 to ask about any other high-efficiency boiler system.
Our Customers Love Us
Hear What They Have to Say
- Stuart K.

- Stacey F.

- Jess T.

- Luke B.

- Nancy C.
Why Choose Us?
We're Focused On Your Satisfaction
Family Oriented With Hands-On, Accessible Owner

Serving All of Long Island, NYC & Queens Since 1988

Straightforward Services at Honest, Fair Prices

Highly Skilled, Happy Employees & Project Managers

Fully Vetted, Background-Checked & Drug-Tested Employees