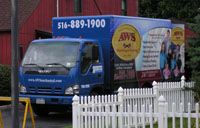 Nassau County Mini Split System
Nassau County Fujitsu Wall Mounted Mini-Split Systems
Providing Installation, Service & Repairs by an Nassau County HVAC Specialist!
We Come to You! (516) 217-2196
Nassau County Mini Split AC Repair, Installations & Free Quotes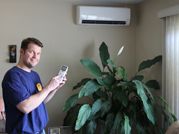 More and more, Fujitsu mini split systems are becoming a popular method for people to cool and heat their homes. So, why are Nassau County mini split system so popular for home and business use? The mini split is a duct-less cooling and heating system that was developed and perfected by the engineers at Fujitsu to efficiently regulate the temperatures of homes and offices for both hot and cold temperatures.
The Nassau County mini split system is built with two major units that are connected to each other through pipes and tubing. Installation is a breeze, with one of the units installed on the inside wall of the home or office building, and the other unit is installed against the outside wall. Making the need for duct work and crawl space supports obsolete.
These units are a very smart move when planning an upgrade to your heating or cooling system. The "outside" unit or "Condenser" takes in air from the outside of the structure and blows it through the refrigerant line and tubing to the indoor unit which blows the now cooled (or heated) air into the room.
These units are great because during the winter the refrigeration process reverses and they blow heat. Saving you money on your heat and oil bills. These units may be the perfect solution based on your individual need.
When thinking about switching from conventional AC systems or wall units to a ductless air conditioning or a central air conditioning system, there are many factors in choosing the right company.
There are many things that will impact your decision including: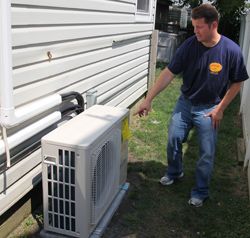 Space / Room
Sanitary Conditions (Ask Why)
New Construction vs Existing Structure
Tax Rebate
Time Frame
Multiroom
Zones
Low Noise
Room Importance
Environmentally Friendly
Installation time
We can answer all these questions and more by calling (516) 217-2196
AWS Plumbing, Heating & Cooling has a proven track record of delivering high quality proposals with a positive work ethic. We are a family owned business that uses only the best products so you get the best service at the best possible price.
Learn how a Nassau County Ductless Air Conditioning Works
Mini-Split systems work to save energy and improve indoor air temperatures year round.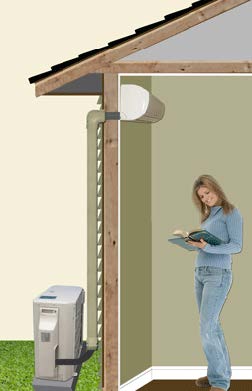 Like conventional HVAC systems, the Fujitsu Halcyon system locates the noisy compressor and condenser outside the house. But Halcyon systems eliminate the need for a basement or attic located evaporator unit, and bulky ductwork by using thin copper tubing that pumps refrigerant directly to discreet wall mounted blowers inside. Even more remarkable, this same unit works in reverse in winter, absorbing heat from the outside air and moving it indoors to heat your home. The result? Efficient cooling and heating for year-round, whole-house comfort in most climates.
Available in numerous mix-and-match capacities and configurations, there's a Halcyon mini-split system for even the most difficult to heat and cool areas.
Easy Installation
Copper tubing running through a small 3 to 4-inch opening in the wall or ceiling easily connects the indoor and outdoor units. Refrigerant is cycled through the lines from the outdoor condensing unit to the indoor unit, where the air is quietly distributed to the interior space.
Aesthetically Pleasing
Conventional air duct systems tend to be bulky and can require special structural attention while Halcyon system piping can often be routed through walls and joists to maintain aesthetics.
Flexible, Remote Control Cooling
Because each room has its own handler, you can create up to four zones with a timer and optional wired remote that puts you in temperature control and allows you to meet the varying comfort needs of different spaces.
Learn about the Fujitsu Heating and Cooling Systems
Providing Nassau County Ductless Air Conditioning Repairs and Installations Across Nassau County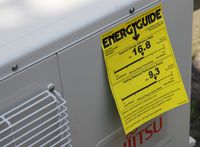 AWS Plumbing, Heating & Coolingwill provide the ultimate cooling system to make sure you're comfortable in your home or office. After calling one of AWS's home comfort specialists we will provide a free walk through and will give you a proposal based on your needs. We will examine your space room by room and design the perfect system that will work best for you. We can maximize each room and zone accordingly. These units are so efficient that you will save more money than if you installed the most efficient tradition wall unit.
These units have a built in thermometer that measure the temperature based on the air the unit processes. We provide a complete range of installations, repair services, preventive maintenance, service agreements, and additional services. AWS Plumbing, Heating & Cooling is a member of the LIPA Cool Homes Program. So you qualify for any LIPA rebates that are available.
Major Advantages of Nassau County Mini Split Systems
There are several major advantages to the Nassau County mini split systems including:
Central air quotes give you sticker shock
You don't want to lose closet space to ductwork
You have warm or cold spots in your home or business
You don't need your window air conditioners anymore
You don't have to deal with noise that prevents you from hearing the television
Room to Room Temperature Control
Another big advantage of the mini-split system is that you can set room by room temperature control, which means you will be saving energy that a larger Air conditioner unit is designed to keep running. These machines are designed to sense the temperature of the air and automatically adjust each room to the desired temperature.
Advantages to These Units
Finally, these Nassau County mini split systems do not cause water or damage to the window frame, not to mention how older air conditioners are extremely noisy. These mini split system can be used year round for heat as well. This heating and cooling system is quick to install, easy to maintain and more cost efficient than other types of air conditioning and heating units that are currently on the market.
Nassau County Ductless AC Services & Common Repairs
Air Conditioning
Air Conditioner
Condensing Unit
Condensers
Evaporative Coil
Evaporative Cooler
Swamp Cooler

Freon
R-22
Refrigerant
410A
Heat Pumps
Compressors

Refrigerant Leak
Condensate Leak
Retrofit
Environment Friendly
Fans
Dirty Coils
You qualify for Nassau County rebates through LIPA. Call (516) 217-2196 to see what you qualify for.
As a participating member of LIPA Installer program you can be assured that AWS Plumbing, Heating & Coolingtechnicians are up to date on the most recent rebate availability.
2013 Rebates Through LIPA
Below is a list of current rebate availability that you may qualify for just by working with AWS Plumbing, Heating & Cooling.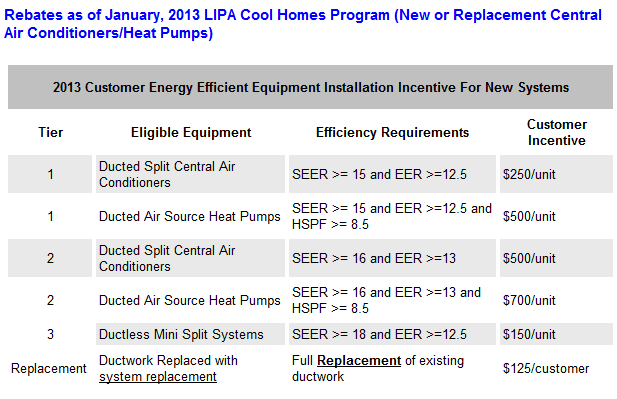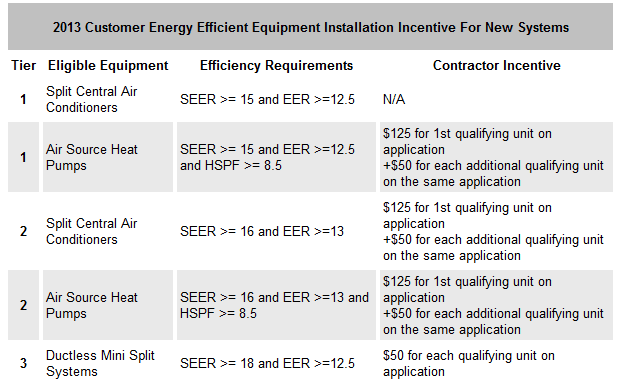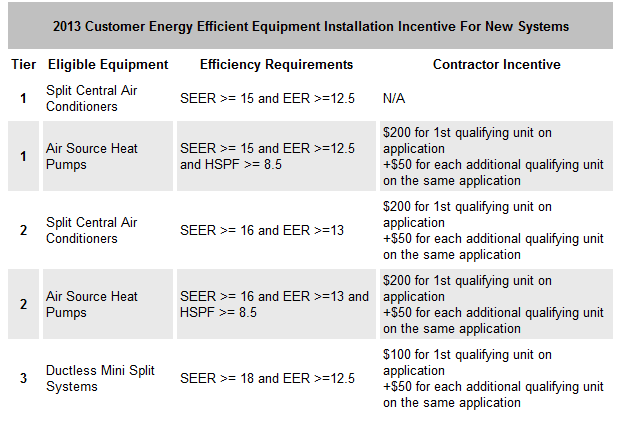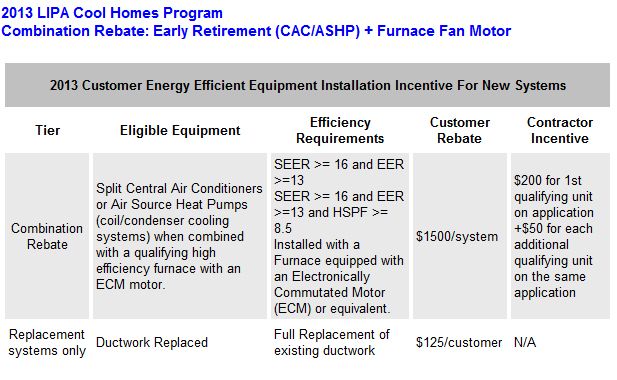 LIPA Rebates Seem Confusing?
Allow AWS Plumbing, Heating & Cooling to answer any questions you have so you can take advantage of these great money saving 2013 rebates - Call (516) 217-2196
Working with the Following Manufacturers
Fujitsu, GE Appliances, Goodman, Heat Controller, Heatcraft, Honeywell, Janitrol, Johnson Controls, Lennox, Liebert, Mcquay, Miller, Modine, Rezspec, Rheem, Ruudac, Armstrong, Bard, Breezair, Bryant, Carrier, Coleman, Comfort Maker, Emerson, Dunham, Evcon, Friedrich, Tecumseh, Trane, Amana, Aprilaire, Rinnai
Our Customers Love Us
Hear What They Have to Say
- Stuart K.

- Stacey F.

- Jess T.

- Luke B.

- Nancy C.
Why Choose Us?
We're Focused On Your Satisfaction
Family Oriented With Hands-On, Accessible Owner

Serving All of Long Island, NYC & Queens Since 1988

Straightforward Services at Honest, Fair Prices

Highly Skilled, Happy Employees & Project Managers

Fully Vetted, Background-Checked & Drug-Tested Employees