Long Island Boiler Installation
Insured & Licensed Boiler Installers Serving Nassau County, Queens & NYC
Providing Emergency Boiler Repairs by a Local Licensed Plumber!

We are certified to analyze, install, and maintain your boiler to its best potential: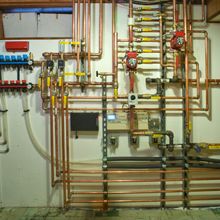 We listen to your concerns: What areas do you need to heat?
We analyze and estimate the work involved.
We will present you with several solution scenarios to accommodate your budget.
We will accommodate your schedule to start, work, and complete any repair and maintenance.
We are certified to install these nationally known boiler products:
Types of Boilers We Install Throughout Long Island:
Steam Boilers
Oil Boilers
Natural Gas Boilers
Propane Boilers
Solar Boilers
Energy Efficient
Boiler Installation & Removal of Old Boilers
During the installation process of your new boiler we will be able to remove and dispose of the old boiler unit if requested. Our Long Island boiler installation service can cover everything from oil to gas conversion and even the conversion from steam heat to oil or natural gas. The installation of each of these boilers require factory training and the team at AWS Plumbing, Heating & Cooling is constantly training their staff in new techniques and to stay up to date with technology and proper installation methods. When working with our Long Island plumbers we can help you get the best rebates and explain how this technology will not only help the planet, but save you money.
Thinking about Selling Your Home?
Replacing or servicing your boiler is a must when thinking of selling your home. You will not only sell your home easier, but it will show the potential buyer that you care about your home and makes them wonder less about what else might be wrong in your home. Contacting AWS Plumbing, Heating & Cooling is the first step to making sure you not only make your home more appealing to a potential buyer, but you will also be working with one of the best energy efficient boiler installation companies in Long Island.
Long Island Boiler Upgrades
AWS Plumbing, Heating & Cooling believes people should not waste money. We can honestly say that the equipment we sell is some of the best boilers in the world. We do not take any shortcuts and feel confident offering warranties on all of our work. We love it when clients call just to thank us from the amount of money they saved on their monthly heating bill. Whether it's from purchasing oil less frequently or even when they made the switch from oil to natural gas or propane.
OUR MISSION STATEMENT

Whether your original heating system was built in this century or previous ones, our skilled team is certified to analyze and install the boiler that best suits your heating needs. Our professionals will guide you through the maintenance process so you fully understand how your boiler operates. We stand by our work and strive to make our company the benchmark of the Long Island boiler installation market.

GUARANTEED EXPERTISE

With our renowned experience in wide range of boiler installation, we guarantee our work will be done efficiently and expertly so you can immediately reap the return on your investment. We will install your system with both industry certified parts and practices, knowing that our company is built on the quality on which our customers depend. Our service is available 24/7, around the clock. Our well-trained professionals will also arrive at your location in a timely manner, in a clean uniform, with a fully stocked vehicle, which is also included in their comprehensive training. They will also leave the site clean, removing all materials and refuse they created during the repair. Our parts and labor are fully guaranteed for a year, with extended warranties available.
Our Customers Love Us
Hear What They Have to Say
- Stuart K.

- Stacey F.

- Jess T.

- Luke B.

- Nancy C.
Why Choose Us?
We're Focused On Your Satisfaction
Family Oriented With Hands-On, Accessible Owner

Serving All of Long Island, NYC & Queens Since 1988

Straightforward Services at Honest, Fair Prices

Highly Skilled, Happy Employees & Project Managers

Fully Vetted, Background-Checked & Drug-Tested Employees