Honeywell Automatic Backup Generator Installation on Long Island
Authorized Honeywell Dealer Serving Nassau County, Queens & NYC
AWS Plumbing, Heating & Cooling recommends the Honeywell line of backup generators to residents of Long Island, Queens and surrounding areas. Call us today at (516) 217-2196 for more information and to schedule a service for your Nassau County or NYC home.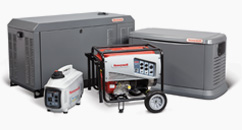 In today's digital world, our reliance on local utility companies to power our lives is taken for granted. Take a quick look around your home and do a quick visual inspection of what you would lose if the power went off. Refrigeration, lights, well pump, sump pump, appliances, home offices, entertainment systems etc. etc.
You can trust a Honeywell backup generator to protect what matters most during a power outage. Honeywell offers a full range of of automatic standby generators sized for every home and need.
Why Choose a Honeywell Backup Generator?
It Fuels Automatically. A permanently installed backup generator is fueled automatically, so if you are away from home and lose power you won't have to worry.

It Starts and Stops Automatically. Just like your heating and cooling system is controlled by a thermostat, a Honeywell generator is controlled by a transfer switch that senses when utility power fails, starting the generator automatically within seconds. When power is restored, the generator shuts itself down and automatically resumes utility power. The system will also exercise once a week so you will know that you are ready for the next power outage.
Honeywell Backup Generators are Available in the Following Sizes:
Call us or contact us online for more information.
Our Customers Love Us
Hear What They Have to Say
- Stuart K.

- Stacey F.

- Jess T.

- Luke B.

- Nancy C.
Why Choose Us?
We're Focused On Your Satisfaction
Family Oriented With Hands-On, Accessible Owner

Serving All of Long Island, NYC & Queens Since 1988

Straightforward Services at Honest, Fair Prices

Highly Skilled, Happy Employees & Project Managers

Fully Vetted, Background-Checked & Drug-Tested Employees